LSST:UK and Citizen Science
Kick-off meeting held for exploring new avenues for citizen science with LSST:UK's Lasair alert broker
Some of the most interesting discoveries likely to be made by the Rubin Observatory's Legacy Survey of Space and Time (LSST) will concern transients: sources that need to be found rapidly so that other telescopes can observe closely before it fades. Scientists will use computers and machine learning to do much of the work of classification, as well as flagging that which is potentially exciting. But in the past decade, online citizen science has played an increasingly important role in the analysis of data from astronomical surveys. Such citizen science projects have contributed to all areas of astrophysics from finding new extrasolar planets to discovering rare types of gravitational lenses. A recent two-day meeting at Queen's University Belfast saw the launch of a new collaboration, funded through the UKRI Place and Citizen Science programme (https://www.ukri.org/news/public-to-help-shape-exciting-new-range-of-research-on-the-issues-that-impact-their-lives/) , to explore future ways of partnering citizen science and machines to mine the data from LSST.
The team (pictured below) brainstormed how Lasair (https://lasair.roe.ac.uk/), the LSST:UK transient broker, could be leveraged with the power of the Zooniverse platform (http://www.zooniverse.org), which hosts the largest collection of people-powered projects in the world, to efficiently and effectively sift through the LSST alert stream in real time to identify interesting sources worthy of rapid follow-up. As part of the funded work, infrastructure will be built to enable Lasair to connect to the the Zooniverse Project Builder Platform such that data can flow from the active Zwicky Transient Factory (ZTF) survey (and from LSST in the future) to a filtered stream that goes to a Zooniverse project where volunteers can sort images, classify light curves, and identify unusual transients. During the workshop, a new prototype citizen science project was designed, built, and beta tested utilising ZTF observations selected via Lasair, to search for superluminous supernovae, a type of stellar explosion that is not well understood, but associated with long rise time and a faint blue galaxy. Once identified, it is important to follow up quickly by taking a spectrum with a big telescope. The superluminous supernovae project is currently under development, but the team expects to launch it as a full Zooniverse project in the future.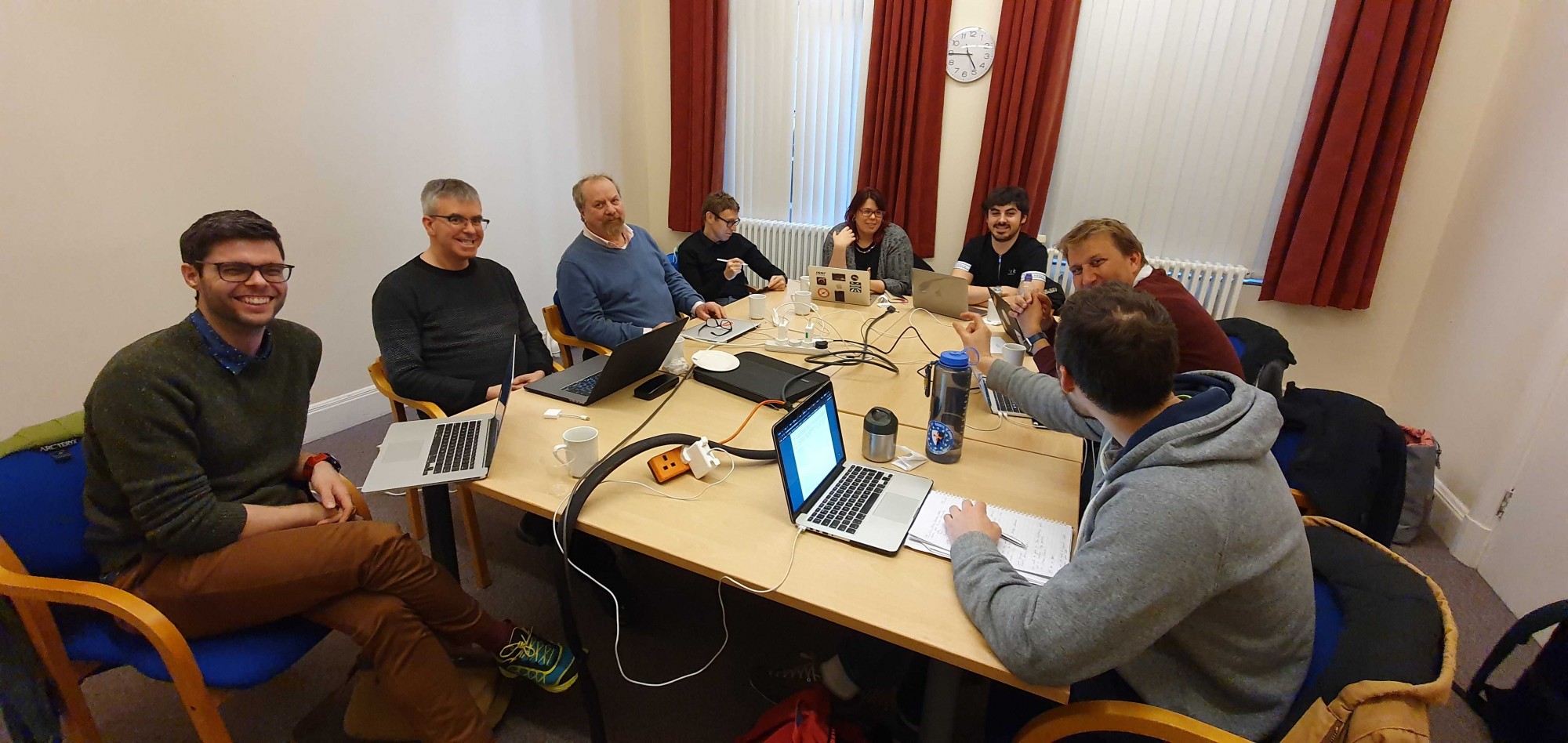 The attendees of the citizen science workshop at QUB pictured here are: Michael Fulton, Jamie Robinson, Meg Schwamb, Stephen Smartt, Ken Smith (all QUB); Chris Lintott, Grant Miller (University of Oxford/Zooniverse); Roy Williams (University of Edinburgh); and Darryl Wright (University of Minnesota/Zooniverse).
Last updated: 15 Feb 2020 at 8:44